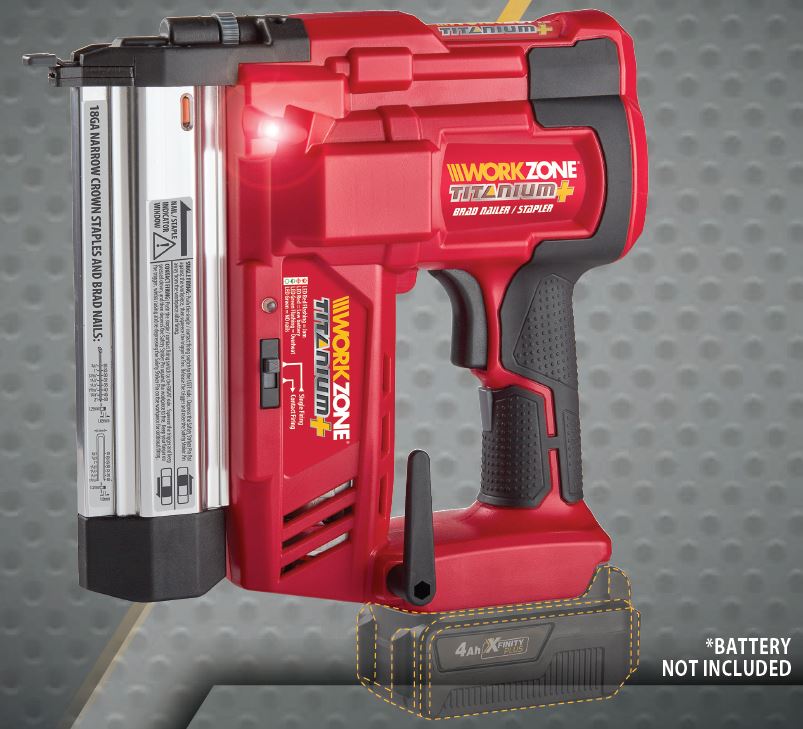 20V Brad / Nailer Stapler Skin* (Battery and Charger not included) - MODEL NUMBER: DBAF50/40, 8273 (90006168)
20V Brad / Nailer Stapler Skin* (Battery and Charger not included) - MODEL NUMBER: DBAF50/40, 8273 (90006168)
---
Model: 20V Brad/Nailer Stapler Skin* (Battery and Charger not included) 8273 / 90006168
Price:  $38.95 (including GST) Plus Postage and Handling Calculated At Check Out
"CLEARANCE SALE"
BATTERY OR CHARGER SOLD SEPARATELY.  COMPATIBLE WITH ALDI XFINITY 20V BATTERIES AND CHARGERS.
Handy for finishes and trims (interior and exterior), door and window casings, door jambs, flooring, baseboard paneling and cabinetry
Specifications:
Voltage: 20V d.c.
Firing speed: 100 nails/staples...
Model: 20V Brad/Nailer Stapler Skin* (Battery and Charger not included) 8273 / 90006168
Price:  $38.95 (including GST) Plus Postage and Handling Calculated At Check Out
"CLEARANCE SALE"
BATTERY OR CHARGER SOLD SEPARATELY.  COMPATIBLE WITH ALDI XFINITY 20V BATTERIES AND CHARGERS.

Handy for finishes and trims (interior and exterior), door and window casings, door jambs, flooring, baseboard paneling and cabinetry

Specifications:
Voltage: 20V d.c.
Firing speed: 100 nails/staples per minute
Magazine capacity: 100 (nails or staples)
Led worklight: Yes
Max nail length / type: 50mm, 18 gauge brad nail
Max staple length / type: 40mm, 18 gauge light duty staple
Depth Adjustment wheel range: 0-3mm
Not included: Battery and charger
Weight: 2.65kg

Includes:
1x Brad Nailer / Stapler
x1 Belt Hook
x200 - 32mm Staples
x200 - 40mm Nails
1x 3mm Hex Key
1x Instruction Manual
x1 Warranty Card